Pre-Purchase Building Inspection
Our Building Inspection Packages
Structural Silver
Need-to-know
Two storey$400inc.

Inspected as per standard REIWA Annexure

Roof structure internally (not roof cover)

Foundations

Wall structure

Sub floor

Lintels

Balconies / piers / columns
Structural Gold
Great-to-know
Two storey$495inc.

Inspected as per Australian Standards AS 4349.1

** Includes all Structural Silver elements

Roof cover

Ceilings

Moisture meter testing

Plumbing – basic

Electrical – basic
Structural Platinum
Know-it-all
Two storey$820inc.

Inspected as per Australian Standards AS 4349.1

** Includes all Structural Silver and Gold elements

Non-structural and maintenance items as listed below
Professional Independent Building Inspectors in Perth
OVER 30 YEARS OF INDUSTRY EXPERIENCE
A Professional Condition Report
Our licensed inspectors have over 30 years of industry experience and the technical knowledge and experience to identify potential structural issues. We report in simple, easy to read terms and you have the inspector's direct number so that you can have any queries answered promptly by the person who conducts your inspection. Our building inspectors are WA registered builders and you will see the builder registration number in every report.
Your comprehensive building inspection report will be detailed, easy to read & compliant with Australian standards. Our detailed pre-purchase reports comply with Australian Standards 4349.1 – 2007 Inspection of buildings and have been developed over many years. The structural inspection is designed to satisfy the requirements of the standard REIWA building inspection. annexure.
We carry full Professional Indemnity, Professional Liability, and Worker's Compensation Insurance because our inspectors are our biggest asset and our clients want to know they are getting happy, healthy and knowledgeable people. BCI WA is fully covered, which means so are you!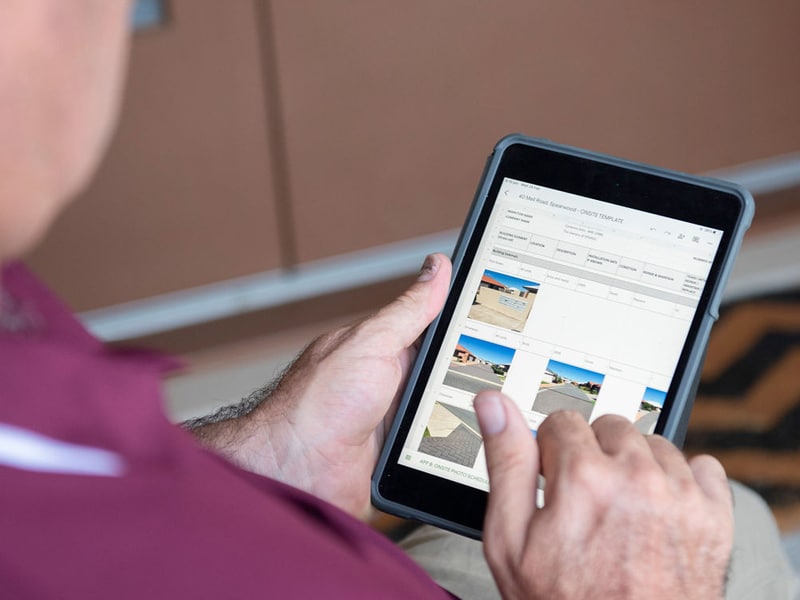 As a necessary as part of the property buying process, we offer peace of mind on your investment.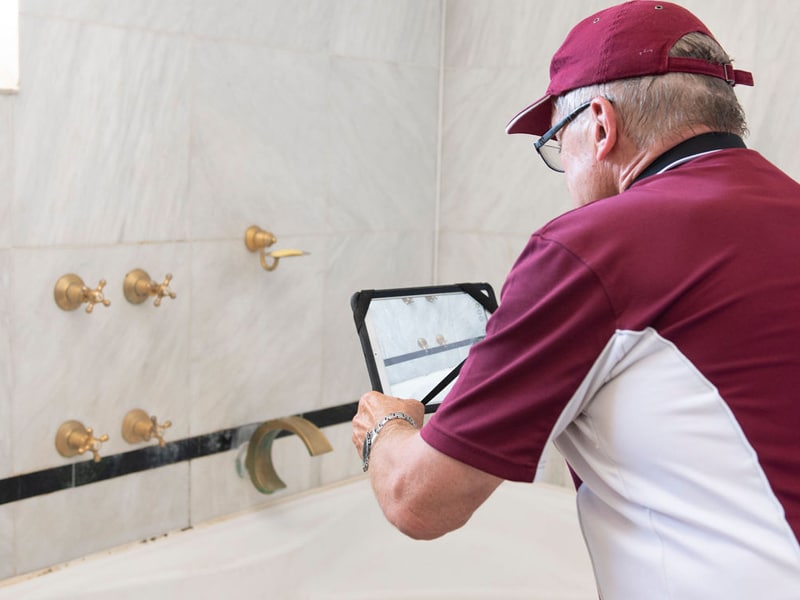 Our Inspection Process
1. Arrange a BCI building inspector to visit your property
2. Organise access to the property with the owner, occupant, or agent
3. Undertake a comprehensive pre-purchase building inspection of the property
4. Prepare a pre-purchase inspection report and email or post it or you may collect it from our office in Como
5. Coordinate a timber pest inspection for you at the same time we conduct our inspection
Do you have a concern regarding the property? We are here for you! If you have any concerns regarding the property, let us know and we will have our qualified builders address your concern specifically!
Why You Should Consider a Pre-Purchase Building Inspection?
If you are interested in buying a property, a pre-purchase building inspection is essential to ensure your home is safe and hassle-free. Firstly, it is important to know what takes place in a pre-purchase building inspection and what exactly it entails.
Pre-purchase timber pest & building inspection is the assessment of a building before purchasing, whereby qualified inspectors inspect the building for any unforeseen hazards or faults. This can include a range of defects from damaged walls to faulty roofs.
This is something that may seem tedious, but it is important to have full confidence that when moving into your new home everything is in perfect condition. The risk of not conducting a pre-purchase building inspection is that you could be buying a home that has many defects and will cost thousands of dollars to fix.
As qualified building inspectors in Perth, we advise you to be cautious and know what kind of home you're stepping into. Here are four reasons why you should consider a pre-purchase building inspection:
1. Qualified Inspectors Ensure That The Building Is Up To Australian Standards.
Throughout the inspection, your qualified inspectors will conduct an overview of any structural issues. They will assess the building and review if it is up to standards according to the Building Codes and Standards of Australia. If you choose not to proceed with an inspection before buying, it is important to note that if the building does not conform to these standards, it is your responsibility to cover the costs of bringing the building up to the standards.
2. Identify Unsafe Areas And Necessary Repairs.
Inspectors are qualified to identify potential threats and hazards. During this inspection, they will communicate with you and make you aware of any unsafe areas as well as advise you on necessary repairs that would need to be made to ensure the building conforms to the building code.
3. Conduct Electrical Wiring And Smoke Alarm Tests.
Any faulty wiring will be identified and smoke alarms will be tested to ensure that they work effectively. If there is faulty wiring and smoke alarms are not working well, there is a high risk of a fire breaking out. Inspectors conduct this testing to reassure you that your home is a safe environment and to limit any potential hazards.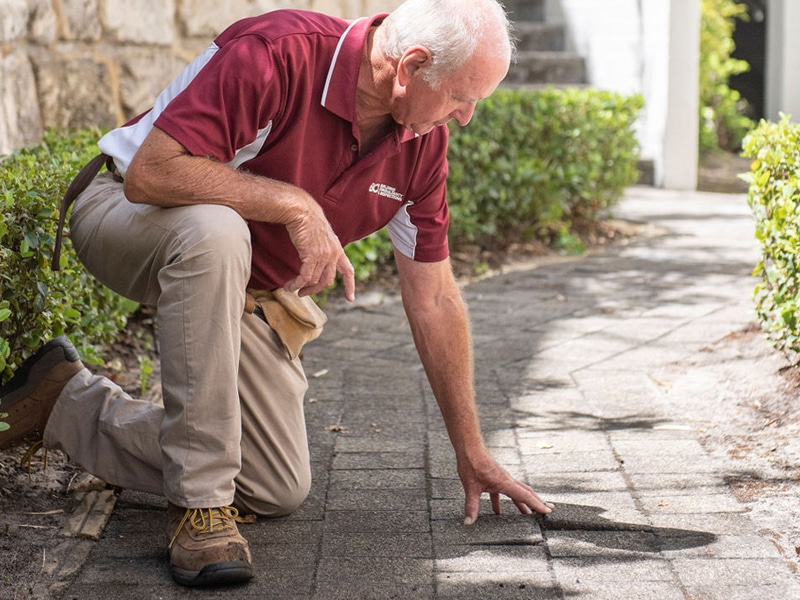 4. Evaluate Outdoor Structures.
The pre-purchasing building inspection does not only cover the building itself but assesses outdoor structures including sheds and patios. If these structures do not conform to the regulations of the local councils, there is a possibility that you may have to demolish these structures. This is especially frustrating if one of the reasons you decided on purchasing the home is because it has these spaces.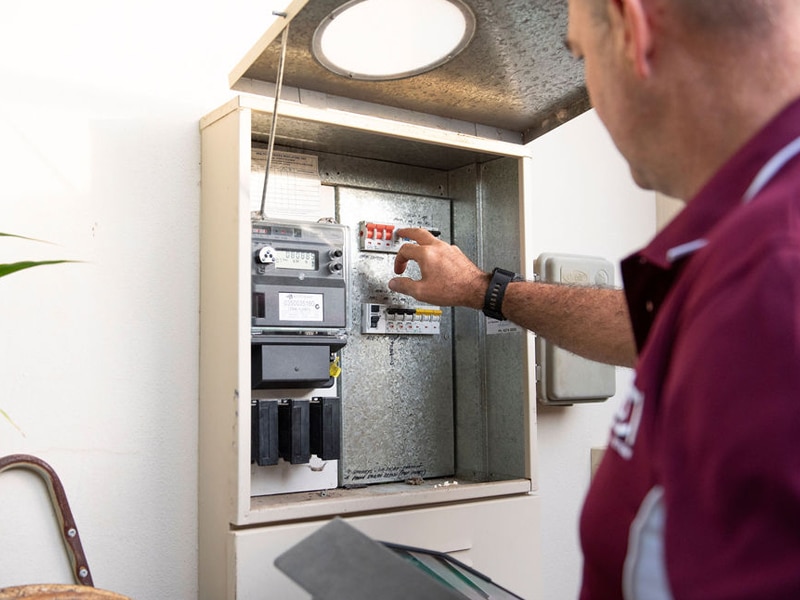 The Cost of Pre Purchase Building and Pest Inspection
In Perth, the costs of a pre-purchase inspection are based on the size of the property, its location, and whether it is a single or two stories. It is a cost-effective investment to have new and established home building inspections in Perth and highly recommended by all real estate agents to get a pre-purchase building inspection before the keys are handed over to you.
We recommend practical maintenance and preventive actions to maintain your investment and have a team of inspectors who are all registered builders with over 25 years of experience. BCI WA is also a member of the Master Builders Association and can provide a list of trusted trades for any required maintenance work.
What's Covered In The Standard Structural Pre-purchase Inspection?
Visual standard structural inspection of the performance of the following:
1. External Roof
*Subject to visibility
Straight and true
Roof cover condition
Valleys
Flashings
Flues
Chimneys
Ridges
Gutters and downpipes where structural
2. External Walls
Fretting mortar
Concrete cancer
Cracking / settlement
Moisture
Includes attached garages, store rooms to the main dwelling
3. Foundations / Sub-floors
Condition of piers and stumps
Structural soundness
Settlement/shrinkage cracks in the concrete
4. Internal Roof Structure
Performance of roof structural members – Beams, struts, under purlins, rafters, joists, etc.
Fixings
Ceiling sheets, insulation type, and coverage
Insulation
Evidence of leaking tiles, ridges, or valleys
5. Internal Walls, Doors and Windows
Check integrity for structural damage, cracking or repairs
Ensure they are straight and true
Moisture ingress – rising / penetrating or falling damp
6. Moisture
Moisture meter testing to all wet areas and adjacent walls
7. Preliminary Plumbing and Electrical Check
*NOT COMPLIANCE INSPECTION – We are not licensed plumbers and electricians
Check RCD's and hard wired smoke alarms are present
Check power points are earthed throughout the property
Give an overview of the hot water system and check the valves
Check the water outlets and visual drainage
8. Timber and Pest Inspection
*If requested, coordinated with an independent qualified second inspector
Check everything within the perimeter of the property
Fences
Trees and garden beds
Wood rot
Rodents and other pests
Termites – previous activity, live termites and potential risks at the property
Final Inspection Checklist
Building surveyor final inspection checklist
A Final Inspection happens after your offer and acceptance have become unconditional and normally just before settlement. It can occur up to two months post building and timber pest inspection.
Knowing the difference between a Pre-Purchase Structural Inspection and a Final Inspection is vital because both are important but for very different reasons. Before the offer and acceptance are unconditional, you need to know whether your property is structurally sound and that no termites are present. For a comprehensive list of items checked in your Pre purchase building inspection, click here
The Final Inspection is the last handover of your property before settlement occurs and you are handed the keys.
Here is a checklist to ensure you have peace of mind when you take possession of your new home. It is likely that you haven't spent too much time at your new property so take your time and enjoy getting to know the ins and outs.
Turn the air conditioner/heater on as you arrive to ensure it cools / heats
Telephone line
Letterbox key
Doorbell
Light fixtures including pendants
Water taps and mixers (check outside for hose taps as well)
Tap spouts
The water filtration system works
Plugs for sinks
Leaks under laundry trough
Washing machine taps
Sinks (check that doesn't leak)
Toilets (check that flush)
Door handles
Exhaust fans
Ceiling fans
Stove/cooktop/oven
Dishwasher – working and explained
Air conditioner
Evaporative cooler
Heating unit
Hot water service
Pool pump and light
Spa – heating unit and pump/filter
Garage door (check that works + remote)
Smoke detectors
Rubbish bins (check that present and in good condition, green and yellow)
Door locks
Doors – do they open easily and do sliding doors move freely
Window locks
Windows – do they open and close and move freely
Drawers
Curtains
Blinds
Dimmers on lights, skylights, automatic blinds
Alarm codes and how to use them, where it is activated
Home Telephone
Electrical switchboard – 2 RCDs
Gas meter
The solar power operation unit
Attic stairs
Fireplace
any items that may have been governed as part of the sale including display furniture.
If for some reason you are not able to be there for your final inspection, you can request that your building inspector be present in your absence. This is not our specialty but as your inspector would already be familiar with your property, we do it in exceptional circumstances. Please call for a quote on Office: (08) 9474 5720 / Ash: 0420 699 848 (24×7).
Please note that we offer a basic structural inspection and a premium inspection that checks the non-structural components of the property and any detached structures.
If you would like a full list of the items checked in this inspection please contact us.
We can also investigate any specific concerns that you have with your property.
Have you just purchased a property?
If your offer to buy a property has been accepted subject to a property inspection or if you just want peace of mind on your investment; we can help you.
The best way to meet this condition is for one of our qualified building inspectors to undertake a pre-purchase building inspection in Perth. Our pre purchase inspection report will confirm whether your property is structurally sound or not, including any recommendations for improvement and/or maintenance.