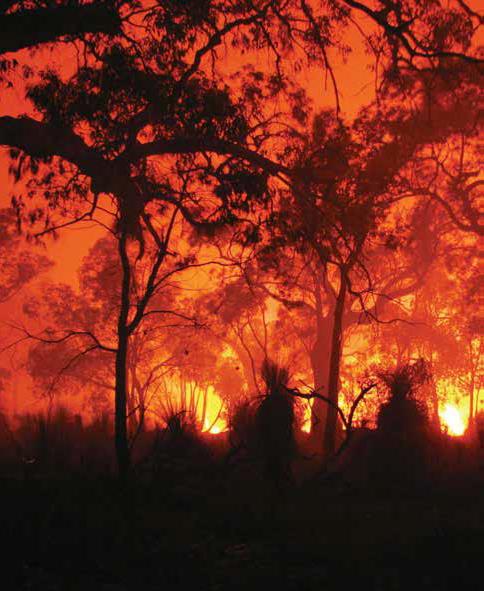 If you live in or near bushland you are at risk from a bushfire and developing a bushfire survival plan is critical.
Being prepared for a bushfire can help save you and your family's lives, your property and your livelihood.
Are you and your family at risk?
Do you live in or near bush?
Does your local area have a bushfire history?
Do you have trees and shrubs within 20 metres of your house?
Is your house built on a slope?
Is your bushfire survival plan more than one year old?
If you answered yes to one or more of these questions then being impacted by a bushfire is a real risk to you and your family. You need to have a bushfire survival plan and keep it updated.
You are in control !!
Whether you live in the city, town or rural property, the impact from bushfires is in your hands. How you prepare yourself, your family and your property
(including your home) rests with you and will, in many instances, determine the outcome.
You should prepare your home to survive a bushfire, even if you plan to leave early, and a well prepared and constructed house is more likely to survive a
bushfire and ember attack than an unprepared one as:
• It can be easier for you and firefighters to defend.
• Is less likely to put your neighbours' homes at risk.
• It will give you more protection if a fire threatens suddenly,you cannot leave, and have to take shelter within the home.
Fire prevention is a family business and there's a job for even the youngest child—such as raking up dead leaves or watering the lawn near the house to keep it green and safe.  For older children, there's a lot to learn about fire safety—the role of trees and scrub in a fire; safety features like building protection zones and hazard separation zones, and the likely pattern of fires in the area.
When developing your plan decide together if you will leave for a safer place, which may be to relocate to family or friends, or stay to actively defend your home. Make sure you write everything down and if you live alone consider creating a plan with a neighbour or friend.  Everybody should have their own tasks and have a list of actions to take if there is a bushfire.  Keep your bushfire survival plan in an easy to find place and make sure everyone knows where it is and practice your plan regularly and review it every year.
Routine maintenance — small jobs can save lives
Simple measures such as clearing the leaves out of your gutter and keeping your lawns mown short can make all the difference in protecting your home in the event of a bushfire. Here are some simple pointers that are just as useful for older houses as they are for newly built homes. These tasks need to be undertaken before and during the bushfire season to ensure your home is well prepared.
Roofs & Gutters
You should keep leaves clear of all gutters, roofing and downpipes both before and during the bushfire season to prevent fire entering through your roof.
Consider installing metal leaf gutter guards to prevent litter build up and check the roof for any broken tiles or dislodged roofing materials ensuring that repairs are completed before the bushfire season. Don't have gaps that would allow embers into the roof space and if there are gaps seal them.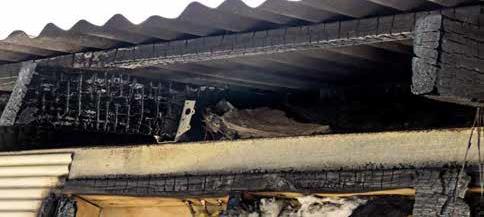 External Walls
Do a full inspection of your external walls to check they are in good condition. Check for gaps in the walls and block them and if there are any broken bricks, decaying timber or damaged cement sheeting repair the wall so that embers cannot lodge in the gaps.
Steps
Ensure that under steps, verandahs, patios and balconies there are no combustible materials. Clear out leaf litter and grass and don't store wood, rubbish, building materials or anything that might catch alight in a bushfire close to the building. Replace combustible welcome mats with non-combustible versions and move them back from the steps a short distance.
Water
Check taps, hoses and hose reels are in good condition and fittings are tight and in good working order. Check pumps are fuelled and oiled and will start easily—you don't want to wait until you need to use the pump to find out it is broken. If you have a bushfire water spray system, ensure that is constructed to AS 5414 – Bushfire water spray system standards (external sprinkler system), and test regularly before the start and during the fire season. Ensure there is adequate water supply to meet the needs of the job.
Access
Check driveways and access tracks are clear of trees and are in good condition for use by fire appliances. Ideally fire service access needs to be 6 metres wide (trafficable surface) with a 4 metre vertical clearance. If you have gates ensure they are in good working order and check that locks can be easily locked or unlocked with a key. Consider leaving your gates unlocked if a bushfire is in the area so that emergency services can gain easy access to protect your property.
LP Gas Cylinders
Place LP gas cylinders on the side of the house furthest away from the likely direction of a bushfire and do not place them under the verandah. Make sure the pressure relief valve is directed away from the house and that there is no flammable material in front of the valve for at least 6 metres. Set the cylinders on a concrete or brick base and fix them to a strong support. Turn the valve off as a fire approaches and if the cylinders are exposed to heat and, if is safe to do so, hose them down with water to reduce the pressure.

Plastic Pipes Have Melting Moments
Exposed plastic water pipes and hoses may melt in the heat of a fire—just when you need them most. To avoid this:
• Bury plastic water pipes (PVC and poly pipes) at least 30 centimetres underground.
• Use metal hose fittings rather than plastic fittings.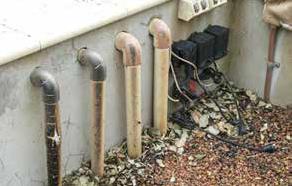 Fix The Fire Traps
Walk around your property imagining a bushfire is approaching in the middle of summer. Are there any fire traps you've overlooked?
• The woodheap—don't pile it against or near the house. Keep it a minimum of 20 metres from the house.
• All fuel containers need to be in a shed away from the house. Unless the shed is constructed to the appropriate bushfire attack level, it should not be within the BPZ.
• Have a firebreak around the shed.
• Rubbish—remove any timber and old junk lying around.
• Overhanging trees—prune branches that overhang the roof or touch the walls and create a two metre wide gap between the tree and the wall or roof.
• Prune out dead material such as leaves and limbs in the shrubs.
Gaps & Vents
Minimal measures: Seal all gaps around the house that are more than 3 mm wide with joining strips or flexible silicon-based sealant; install mesh flywire on vents made from corrosion resistant steel, bronze or aluminium.
Additional measures: Engage a relevant industry expert to install a sprinkler system to the outside of your house to the AS 5414 – Bushfire water spray system standards (external sprinkler system).
Walls
Minimal measures: Install sarking with a flammability index of not more than 5 behind weatherboards or other external cladding when they are being replaced for maintenance or other reasons.
Additional measures: Replace wall materials with non-combustible materials; install sarking with a flammability index of not more than 5 behind weatherboards or other external cladding for the entire house.
Subfloor
Minimal measures: Removal of combustible materials under floors and keeping areas clear and accessible.
Additional measures: Enclose subfloor with non-combustible materials.
Doors
Minimal measures: Install weather strips, draught excluders or draught seals at the base of side-hung doors.
Additional measures: Replace external doors with non-combustible or solid timber doors with minimum thickness of 35 mm and compliant with the requirements of AS3959 Construction of buildings in bushfire-prone areas; replace or over-clad parts of door frames less than 400 mm above the ground, decks and similar elements or fittings with non-combustible materials; install weather strips, draught excluders or draught seals at the base of side-hung doors.
Roofs
Minimal measures: Close in spaces between eaves that lead to the roof space; seal around roofing and roof penetration with non-combustible materials; install sarking with flammability index of not more than 5 beneath existing roofing when it is being replaced for maintenance or other reasons; install gutter and valley leaf guards that are non-combustible; use wire mesh capping on chimneys.
Additional measures: Replace fascia and roof materials with non-combustible materials; install sarking with flammability index of not more than 5 beneath existing roofing.
Evaporative Airconditioners
If you live near bushland (within 500 metres) and have a roof mounted evaporative air conditioning unit, your home may have an increased risk of ember attack.  The filter pads in evaporative air conditioners are made from cellulose material and are therefore a potential source of fuel for travelling embers. If air conditioners draw in embers and the filter pads ignite, the unit may collapse into the roof and the fire may spread throughout the house.  Install a non-combustible ember protection screen to your evaporative air conditioning unit using a unit cover, an external screen or an internal screen. DFES consider that external screens are the most effective option.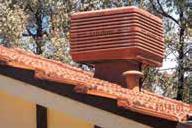 Solar Panels
Ensure that rooftop solar panels are fitted so that there is sufficient gap between the roof surface and solar panel such that burning embers cannot be caught underneath the panel.  If you have a grid-connected solar system on your roof and you live in a bushfire threat area, there are some extra precautionary measures you can take. If you decide to leave early before the onset of bushfire (more than a day's notice) the following can be undertaken. In this situation you can follow the 'shutdown procedure' when leaving your house, which should be marked on your inverter or meter box:
1. Turn off the solar supply mains switch.
2. Turn off the normal supply mains switch.
3. Turn off the PV array isolator.
If you have a stand-alone solar system on your roof, you may have a battery storage that can also be disconnected prior to a bushfire threat. In this situation, you can take the following steps to shut down your stand-alone solar system and battery storage:
1. Turn off solar array.
2. Turn off inverter.
3. Follow battery shutdown procedures to isolate the battery bank.
4. Disable the generator from starting if it has auto start.
These above steps are only to be followed if you have a day or more advance warning that you will need to leave your house.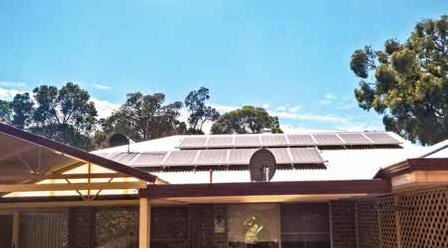 Windows
Ordinary wire flyscreens, fitted on external windows reduce radiant heat (which can shatter glass and melt the seals) and keep out burning embers.
Minimal measures: Install mesh with a maximum aperture of 2 mm, made from corrosion resistant steel, bronze or aluminium to all external doors and windows.
Additional measures: Install appropriately tested shutters to external doors and windows; replace glass with toughened or laminated safety glass; replace overhead glazing with 'Grade A' safety glass as described in AS 3959 for your bushfire attack level (BAL).
External Structures
External structures such as sheds should be located outside the BPZ unless it is constructed to withstand the BAL and be more than 10 metres from the main dwelling.
Decking
Decking should be compliant with AS 3959 construction materials and standards for the potential BAL.

Remove fuels
• Cutting all long grass and removing dead material from beneath and within shrubs and trees.
• Remove dead leaves and twigs from the gutters, under eaves and under the house.
• Move wood stacks, timber and rubbish away from the house.
• Do not store liquid fuels near the house (such as mower fuel).
• Mulched garden beds need to be kept damp so that the mulch itself does not become a fuel. It should be located away from vulnerable parts of the building (such as doors, windows and decks).
Better alternatives to mulch include gravel, scoria, pebbles, shells or recycled crushed bricks.
• Use non-combustible pots and containers for plants that can be moved away from the house during the fire season.
• Other sources of fuel in a bushfire include objects such as caravans, sheds, barbeques and flammable outdoor furniture, which should be located away from the house.
• Shrubs should be placed 3 times their height at maturity away from the building.
• Shrubs should have the dead material pruned out of their crowns.
For further information on how to prepare for and survive the bushfire season visit the bushfire publications page.
Guides